Nest Learning Thermostat
Programs itself. Then pays for itself.
Meet the Nest Le
arning Thermostat.
The third gen Nest Learning Thermostat is more beautiful than ever, with a thinner, sleeker design and bigger, crisper display. And it's proven to help save energy. In independent studies, the Nest Thermostat saved an average of 10-12% on heating bills and 15% on cooling bills.
How does it work?
Auto-Schedule
No more confusing programming. It learns the temperatures you like and programs itself.
Remote control
Connect the Nest Thermostat to Wi-Fi to change the temperature from your phone, tablet or laptop.
Nest Leaf
You'll see the Leaf when you choose a temperature that saves energy. It guides you in the right direction.
Early-on
Nest learns how your home warms up and keeps an eye on the weather to get you the temperature you want when you want it.
Auto-Away
The Nest Thermostat automatically turns itself down when you're away to avoid heating or cooling an empty home.
Energy History
See when heating and cooling were on and what affected your energy use.
Safety Alerts
Get an alert on your phone or tablet if your home gets dangerously hot or cold.
Farsight
When Nest Thermostat spots you across the room, it lights up beautifully to show you the temperature you've set or the time.
* Limited time offer. Installation price apply on the zip codes 33414, 33480, 33401, 33402, 33405, 33406, 33409, 33411, 33413, 33416, 33419, 33420, 33422, 33480, 33449, 33460, 33461, 33462, 33463, 33465, 33466, 33467, 33454, 33424, 33425, 33426, 33435, 33436, 33437, 33472, 33473, 33474. Not valid with other coupons or offers.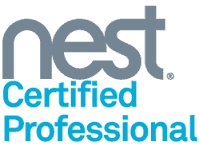 Fill out the form below to get a free consultation and find out how we can make your technology hassle-free!