What About a Home Theater?
Only the ultra-wealthy could afford a home theater until recently. Going to the movie theater, or as we called it the cinema, was always a sound and sight experience. An experience that drew you into the screen, the sound and the acting and exemplified everything the director wanted you to feel and see.
What physical elements needed to create that cinematic experience is a great part of what counts. To attain that sight and sound that creates such an environment is more involved that you may think.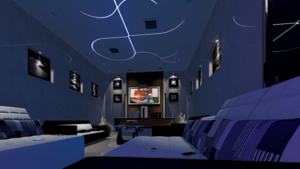 Since the first actual movie theatre opened in 1905 in Pittsburgh, Pennsylvania the audience appetite has grown and grown over time and with its popularity audiences wanted more and more. Hence, sound became the next big draw. The surreal experience for the audience came in 1927 when the movie "The Jazz Singer" took audiences away into the world of talking pictures. This changed our world forever. Filmmakers were obsessed with experimentation and engineering of sound and effects. Not only were we seeing what was on the screen but we were hearing the voices and sounds which made the audience feel more like they were part of the actual experience. Through technology filmmakers were taking the audience to a new level.
Present day advancements in technology as well as monetary cost has made the cinematic experience a sound and sight experience much more common in most homes today. So common that they are used for not only watching movies but TV, music videos, video games, you tube and sporting events. For years social activities in the home has been centered around cocktail parties, dinner parties and game nights. It is more common today to be invited over to a friend's house for movie night or to watch a sporting event on their 85, 4K, TV and surround sound system or in their theater room on a 120", or larger, screen with a 4k projector and cinematic sound.
One can purchase a home theater in a box, in a retail chain store or online. The difference of purchasing a system that suits your needs and specifically the room in your house where you want it to be is where the professionals like TechnoLiving come in. Like everything in life anything can be purchased but does it perform the way you imagined.
Has every part of your home theater been calibrated for your specific audio and video room?
Nothing beats the customization and professional installation of your audio and theater equipment. Everything in your home is an investment and having purchased the proper components and products for your home theater shouldn't be a mistake or not providing you with the experience you dreamed of.
TechnoLiving starts with a free consultation right in your home. It is important that our professionals get a feel for what you want and where you want that experience to be and to happen in your home. Let TechnoLiving make your dream happen today!