SONOS Surround Sound for
Palm Beach, FL & the Surrounding Area
Need help planning, buying and installing your new SONOS system? Our SONOS Experts can help, call us today to schedule a visit our showroom and listen different SONOS options. 
We also offer FREE consultation. 
Enhance your Surroundings with SONOS Surround Sound Systems
At TechnoLiving, we're proud to feature a versatile selection of SONOS speakers to suit your surroundings. Not only will SONOS soundbars enhance your home theater setup, but we offer an array of outdoor speakers to bring the theater experience outside! On top of that, SONOS systems can seamlessly stream music from your Spotify, Pandora, Apple music or Amazon music account while simultaneously being controlled by your Apple Watch, Iphone, Android device or a series of voice-controlled devices.


Have no doubt, SONOS speakers offer the very latest in sound quality and responsive functionality. All you have to do is reach out to one of our certified technicians to request SONOS speaker installation assistance.

The qualified staff at TechnoLiving is proud to assist clients throughout Palm Beach, FL and all the surrounding communities.

Need More Information or Help with SONOS?
Professional Installation Available in your Area
Ready to Start the Sound Project?
1 – Start your home theater with a SONOS ARC.
Flat-screen TVs deliver HD video but need an ARC Soundbar deliver HiFi sound. Watch your TV's high definition video come to life with the new ARC Soundbar epic full range 3-channel HiFi Dolby sound. Plus, you can wirelessly stream music to make a party of music. The SONOS ARC can be wall mounted or placed on the TV cabinet in front of the TV. ARC sets up over your home WiFi and is easily controlled with your TV remote or SONOS S2 app.
2 – Add deeper bass to your home theater
The SONOS SUB v3 wireless subwoofer lays down thick layers of bottomless bass anchoring the sound and adding depth to everything you see and hear.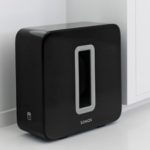 Add SUB to your ARC setup to add the low-frequency channel and experience blockbuster sound with this 3.1 home theater system. Because it is wireless and designed to perform whether positioned horizontally or vertically, you can put the new SUB v3 anywhere you want in the room.
3 – Have a better experience. Add rear speakers for surround sound
Choose your rear speaker pair from either the SONOS One, ONE SL or PLAY5s and instantly set up a couple of wireless speakers as rear channels to create an immersive 5.1 surround sound system. Need help? Stay home… We carry the whole SONOS line and also offer on site installation in Palm Beach County.